Cleaning Up After a Leaking Roof
3/14/2018 (Permalink)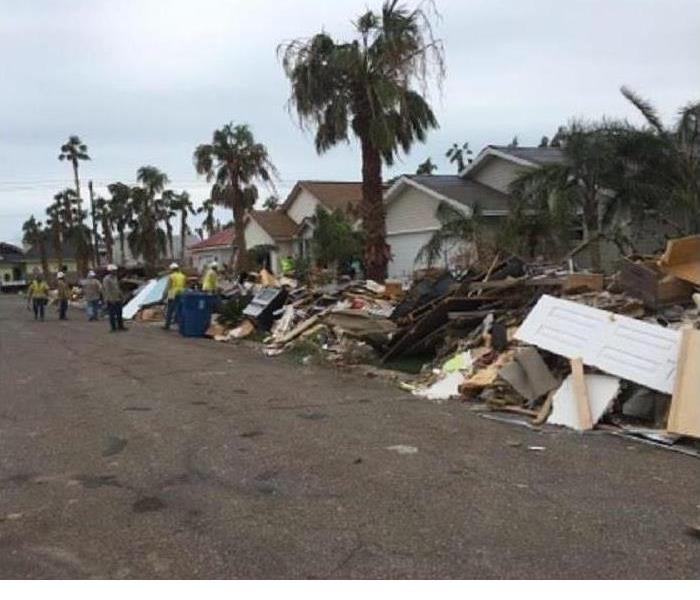 Water stains in dropped ceilings, tracking down the wall or dripping in a hallway are all signs that your commercial building has a roof leak. Even minor exposure can be a major inconvenience. It can disrupt daily business operations in Dallas, TX, and if not taken care of quickly, it can become a costly repair.

What Causes Roofing Leaks

As water flows outward from the leak point, its exact location can be challenging to identify. Some common causes include:

• Age of the roof
• Debris building up and trapping water against the roof
• Gutter backup slowing water flows off the roof
• Missing shingles that may have been ripped off in high winds

Water Damage Cleanup

Once the location of roof leak has been identified and the damaged roof fixed, it's time to begin water damage cleanup. Depending on the site and severity of the leak, this can be extensive. Although each situation may be a bit different, some common steps must be taken.

1. Remove water-damaged materials.
• From the exterior: Shingles, tarpaper, plywood, flashing, etc.
• From the interior: Fiberglass insulation, drywall, dropped ceilings, carpeting/flooring, etc.

2. Dry water affected areas.
• If appliances or equipment were exposed to water, unplug them and let them air dry.
• Open windows if it's less humid outside than inside.
• Use fans to speed the drying process.
• Check for mold growth.

3. Disinfect areas exposed to the water
• Wash nonporous hard surfaces such as glass, plastic, and metal with hot water and a nonammonia soap
• Disinfect all exposed surfaces including wood beams and studs with a bleach solution.
• Clean soft surfaces such as furniture, window coverings and carpeting with a disinfecting cleaner

Recovering from a roof leak and restoring roof and ceilings can be a time-consuming, complex process. Water damage restoration specialists in Dallas, TX, can ensure the process is done quickly and thoroughly, allowing you to get back to business.